2019 Australia-Wide Novice Pairs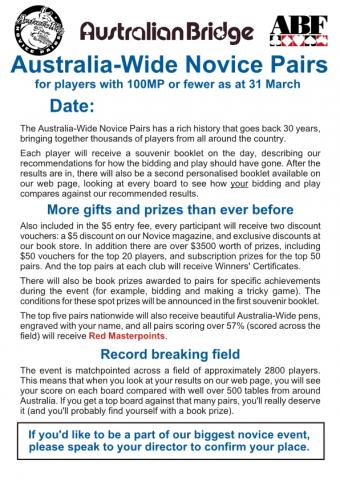 On Thursday 23 May 2019, our club will again be running the Australian Bridge Federation (ABF) national novice pairs event for players with less than 100 Masterpoints (as at 31 March 2019) — across a field of about 2800 players. We've had excellent participation and results in the past — including money prize winners — and hope to keep this up in 2019! A flyer is attached and a short summary is below. (A second movement for those not participating will still be run on the day.)
2019 Australia-Wide Novice Pairs – what's included?
over $3500 worth of prizes, including $50 vouchers for the top 20 players and subscription prizes for the top 50 pairs;

winners' certificates for the top pairs at our club;

book prizes for specific achievements during the event (e.g. bidding and making a tricky game);

a souvenir booklet for each player on the day, describing ABF recommendations for how the bidding and play should have gone;

a personalised booklet on the ABF web page post-event, comparing your bidding and play to ABF recommended results;

red Masterpoints for all pairs scoring over 57% (scored across the field); and

beautiful Australia-Wide pens, engraved with your name if you are one of the top five pairs nationwide.